Dec. 14, 2016
2016 Critic's Picks
Steffanie Ling wrote a lovely overview of my projects in the past year. Along with thoughts
on Strawberry (Dennis Ha and Barry Doupé ) and Jessie Birch's amazing work at the
Nanaimo Art Gallery.
http://akimbo.ca/akimblog/?id=1201
This is what she wrote:
Steve Hubert is that friend of yours you go secondhand shopping with and everything he tries on looks maybe a bit weird, perhaps ill fitting, yet he always manages to pull it off without irony. Hubert's openness to new ventures in the city afforded him opportunities to unfetter his curiosity and pursue a variety of things. In the past year, he produced two plays under the For'er Players Theatre Company (The Chiropractor and Allergic to Power), performed at performance cabaret RERUNS, wrote The Hieroglyph-Prone Society of Actors-in-Commercials (a short story for new literary art journal Young Adult), mounted a solo-exhibition at the recently established Duplex, and several others. Throughout these projects, he touched on the absurdities of subcultures, power dynamics as insecure structures, and a novel approach to artists' theatre. I don't reckon the result to be mastery, but it's rare to get a real sense of freed curiosity from many artworks, never mind that of several projects, by an individual artist and his respective collaborators. Executed at the risk of slipping into dilettantism, he emerged the earnest dabbler – in dapper thrift no less!

Thanks Steff!!!!


Dec xx,
a sneak preview rough track of the new J.S.N. Album, due out in the spring:-)
Johnny, Steve, and Nik have been working hard, in a similar improvised way.


November xx,
contributed Feb to the 2017 Moniker Press Calendar:


more details here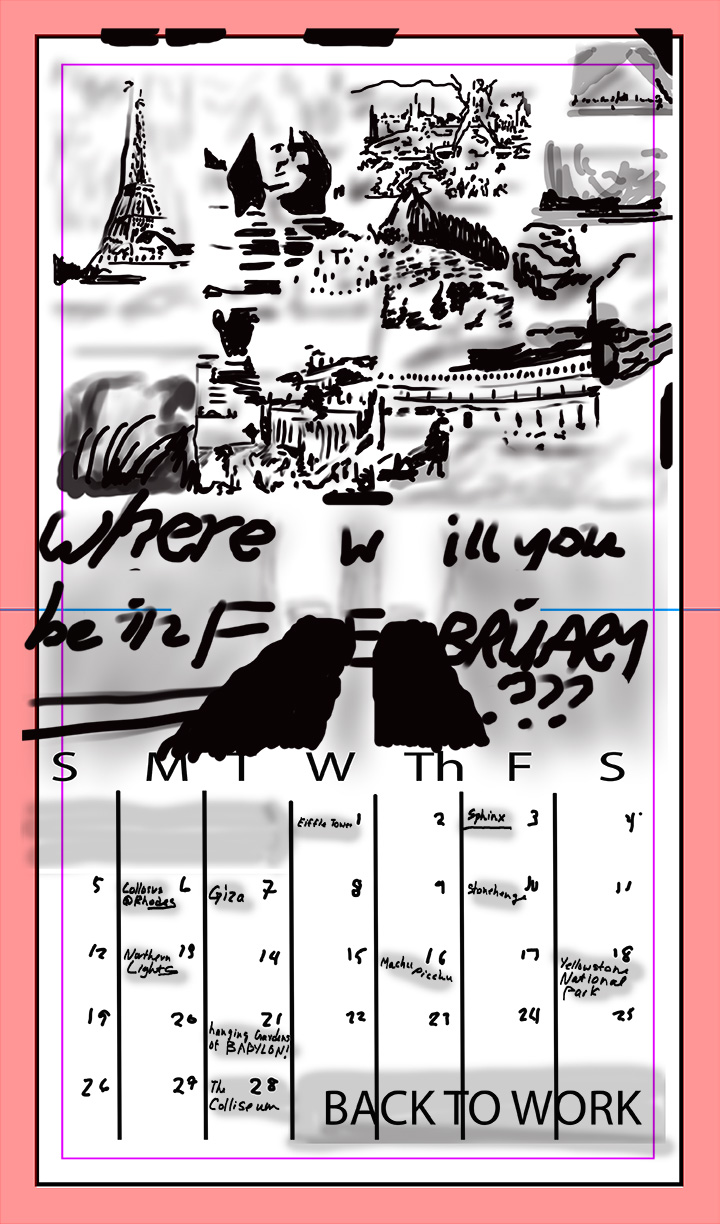 October 14th, 2016
Come to DUPLEX at 6:30 for an artist tour of the exhibition
Dragging the Deleted Block into the Deleted Shape Input: DONT REMIND ME!!!
This is a wine and cheese event!!!

Also available: A limited supply of risograph posters printed by Moniker Press!!! Free
Also to look forward to: instrumental music played live from the crawlspace: It's NEXT LEVEL BOSSES!!!
One more thing: late night screening of Tron (1982). Popcorn
Please join us to make this an event worth celebrating!!! UNTIL LATE-ISH
DUPLEX
4257 + 4277 Fraser St. (entrance in back alley)
Vancouver, BC
email · hello@projectduplex.ca
instagram · projectduplex

September 9, 2016
Dragging the Deleted Block into the Deleted Shape Input: DONT REMIND ME!!!
| | |
| --- | --- |
| IMAGES | TEXT BY GREG X VOLTZ |
DUPLEX
September 10th – October 7th, 2016
4257 + 4277 Fraser St. Van, BC (entrance in back alley)
Viewing by appointment: hello@projectduplex.ca
instagram · @projectduplex

Closing event TBA: October 7th
REVIEW IN AKIMBO by STEFFANIE LING


June 16, 2016
Works in Progress in the studio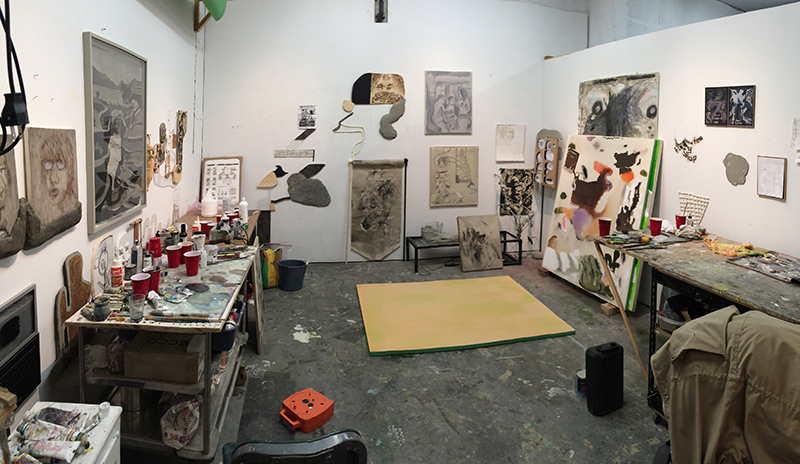 May 6, 2016
For'er Players presents Allergic to Power, inspired by true events.
Starring Johnny Burgess as Steve Hubert and Steve Hubert as Helmut Huberts
| | |
| --- | --- |
| Steve Hubert | Johnny Burgess |
As part of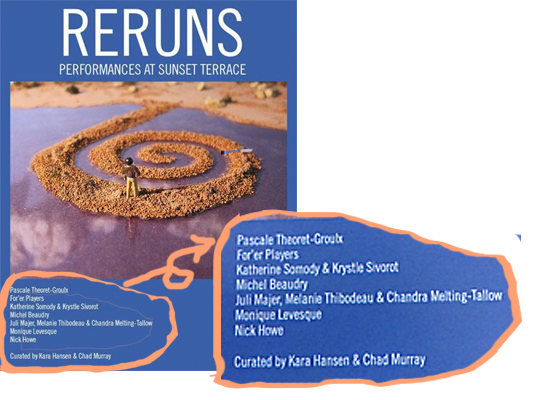 FULL VIDEO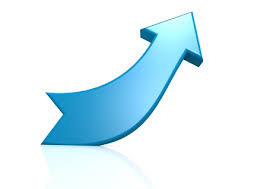 April 2016
BARTLEBY REVIEW ISSUE 45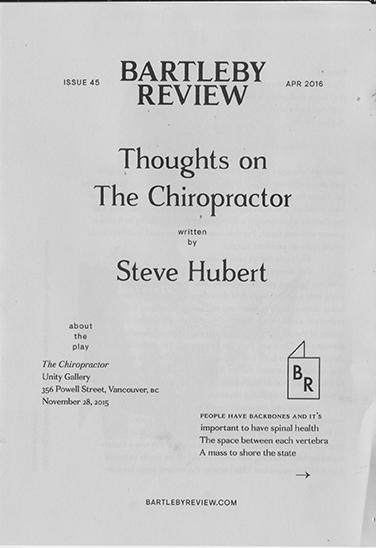 Click to read

Feb 26th, 2016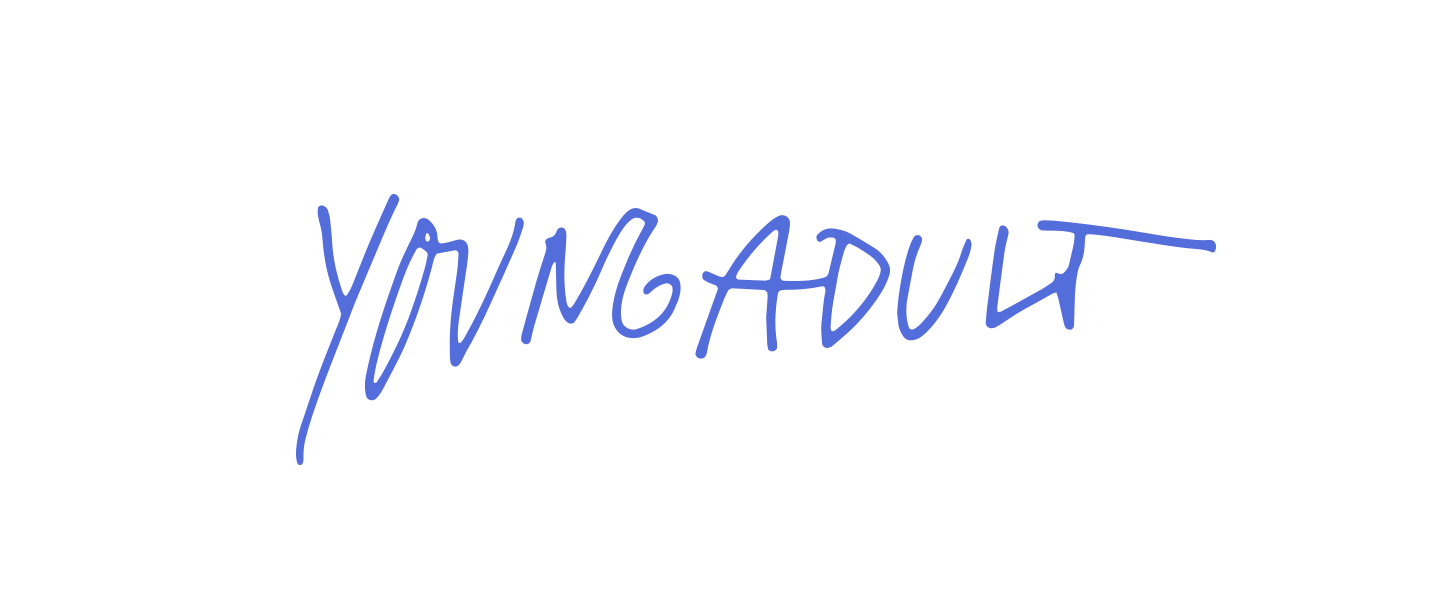 click the logo for the website
Launch of Young Adult Issue 1
with readings by the contributors:
Carey Mercer, Jacqueline Ross, and myself.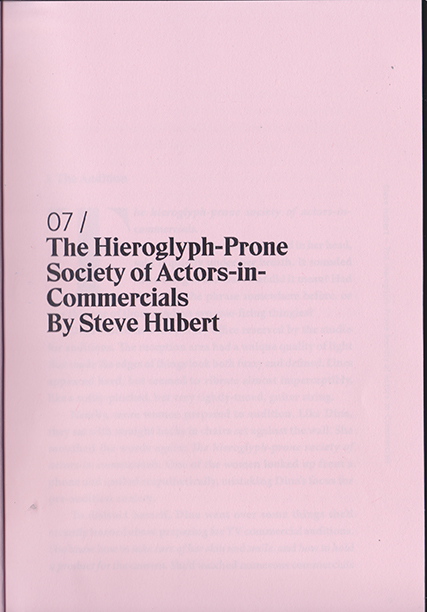 click to read

February 19th
Bend Toward the Sun, Bring the Sky Beneath Your Feet
Johnny Burgess, Jessica Groome, Steven and Meghann Hubert, Jenine Marsh, Ella Dawn McGeough, Les Ramsay February 19th-March 4th, 2016 The Bakery and Dynamo Arts Association, Vancouver BC Canada
Curated by Jasmine Reimer
For this group exhibition Meg and I decided to collaborate. The result was a tangle of lights inspired by a text
conversation (below).

Let's Start a Lighting Company
by Steve & Meghann Hubert (Hubert + Hubert)
Dimensions variable
wood, paper, carboard, concrete, plexiglass, tin foil, foam, ceramics, glue, lights.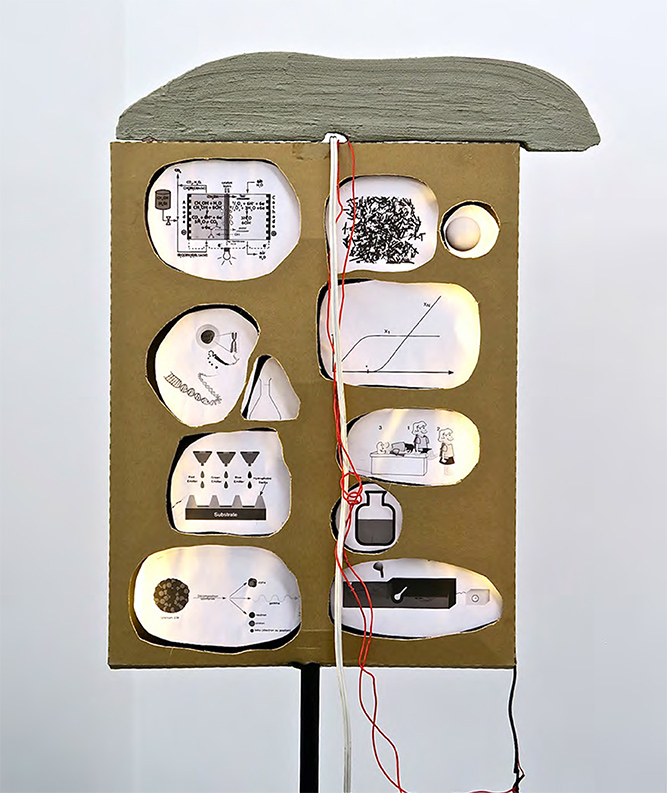 Click to see more images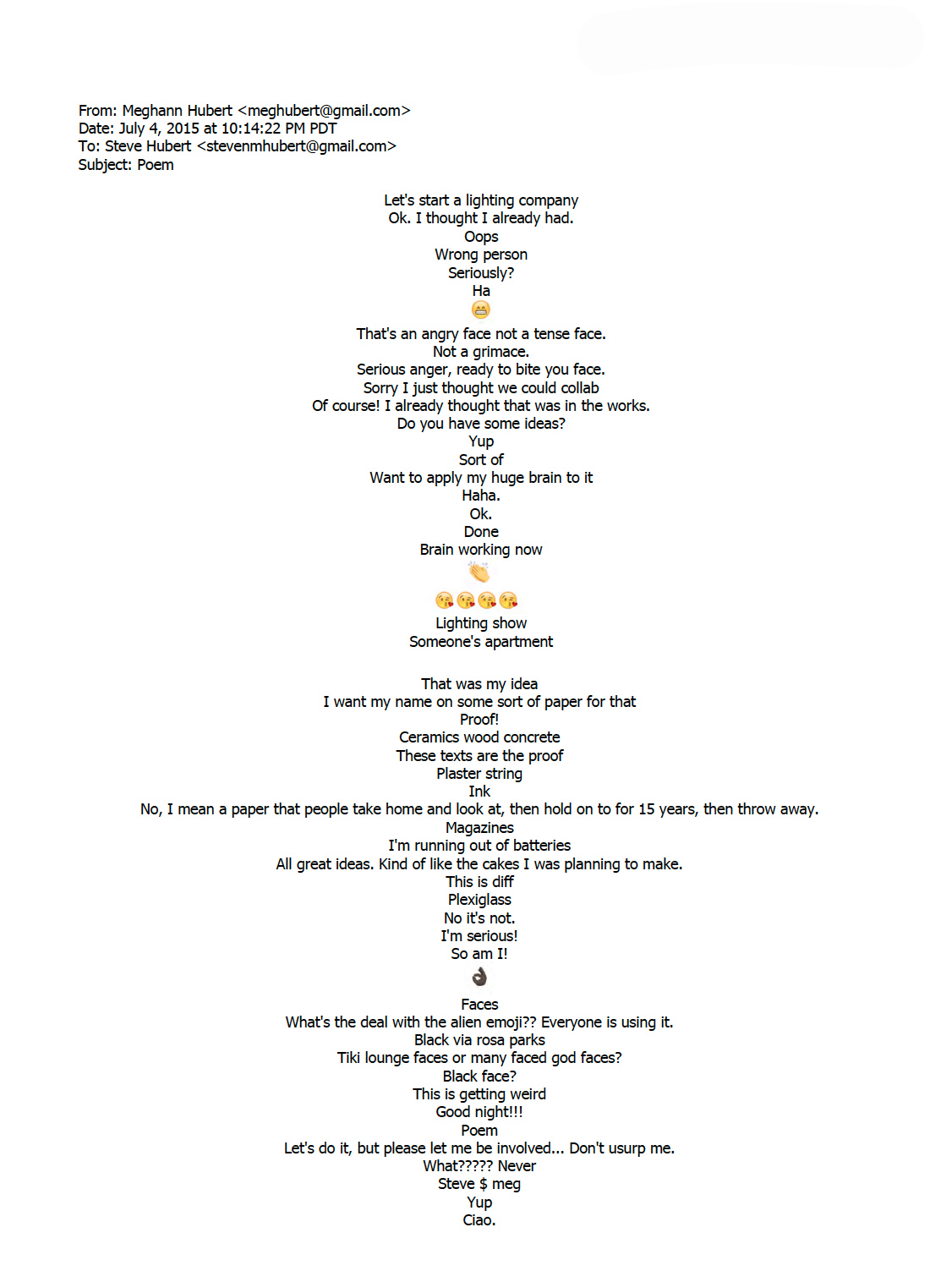 November 28th, 2015
THE CHIROPRACTOR is dedicated to Meghann,
who thought this might be possible.
The Cast:
Settee, chiropractor . . .        Ashley MacLeod
Scott, sleeper . . .     Scott Lewis
Dirge, driver . . .   Johnny Burgess
Written and directed by Steve Hubert
Music by Chiropractors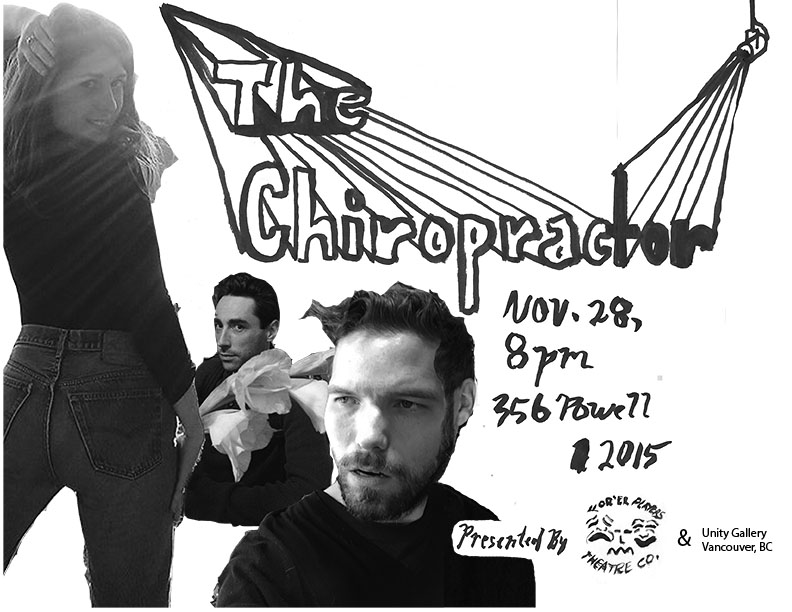 videotaped live from the audience by Magni Borgehed
Saturday, September 19th, 2015
Chiropractors
Meg and I started a new band, Chiropractors, when we had free babysitting on Saturday (Thanks Mom!) Here's our first phone recording, Chiropractors: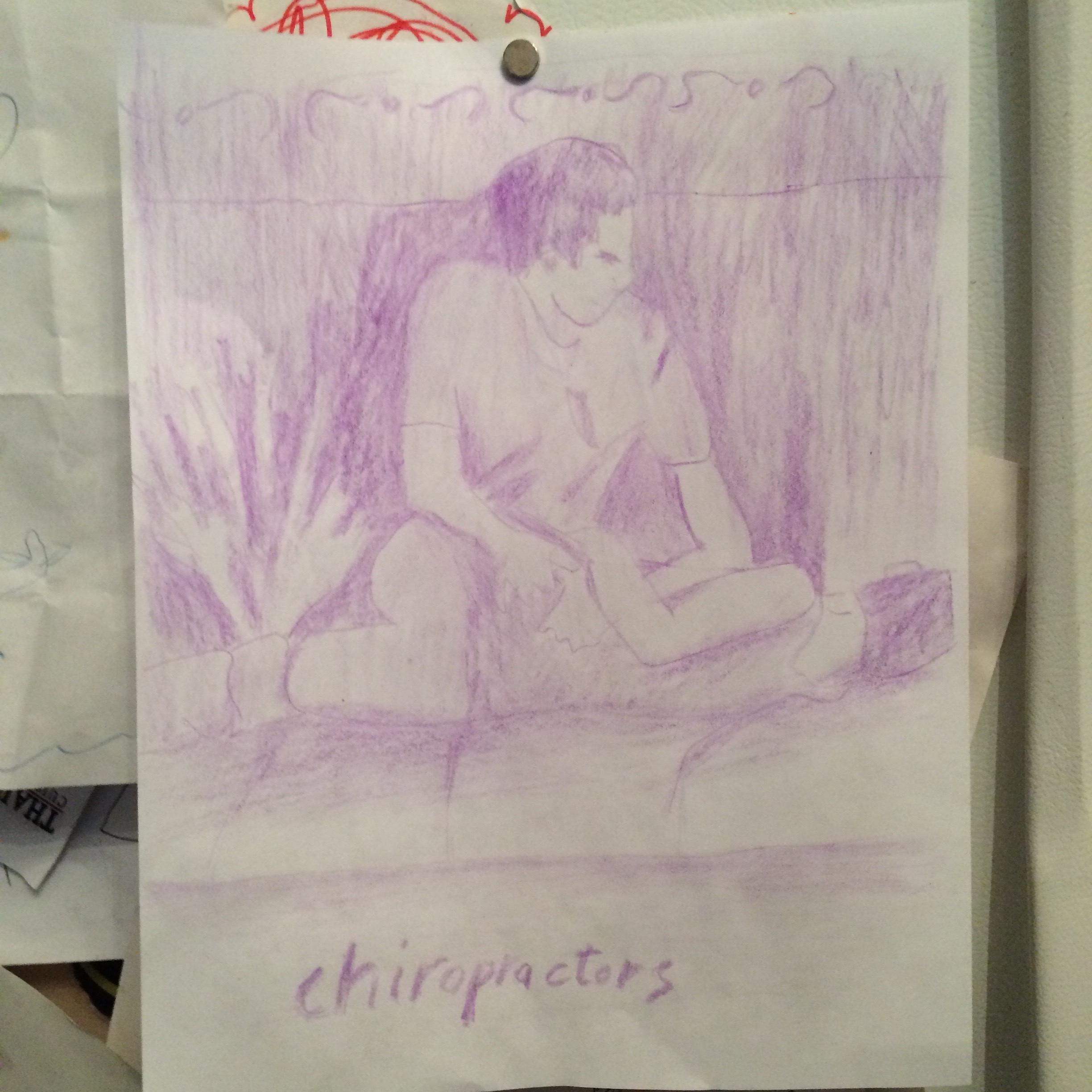 The Art work that inspired the band.
Members of JSN seem on the fence about the new band: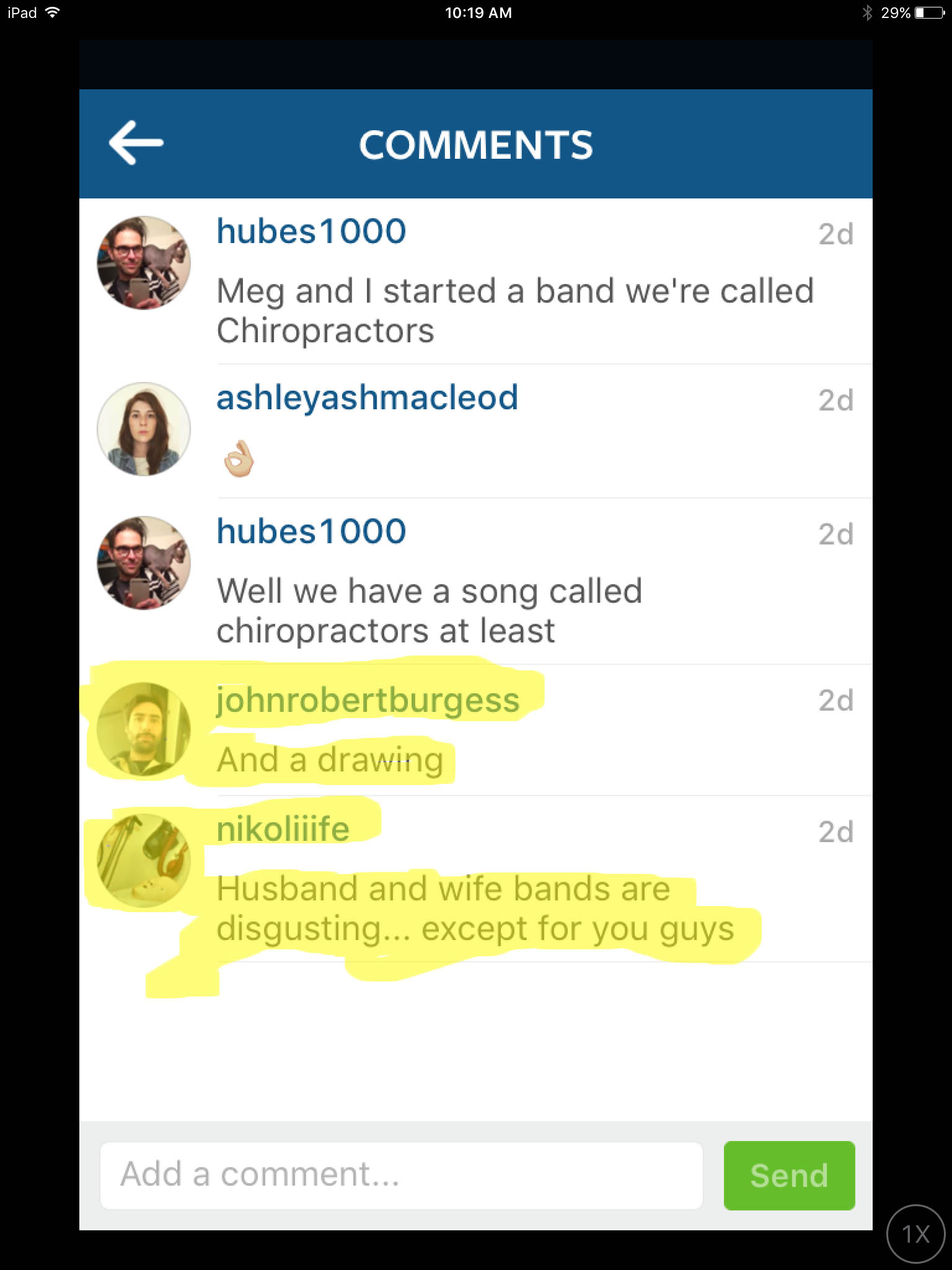 Audio Recording 2015 - 09 - 01 22 - 09 - 22
JSN Practice it's 17 minutes

AUGUST 28
a song about Jason Day's recent big-time golfing win

He'd been trying at this for a while, and apparently felt like this could be his last shot.
I was moved by his emotional transparency.
Also, Jason Day, who isn't American, was being heckled by
Amercian fans of an American golfer. The game was in America.
They were saying "choke choke choke"!
Who doesn't imagine themselves as the character of a similar story?
LYRICS:
Left right left right left right left
Hey guys
Why don't you just give it a break
Jason Day at Whistling Pines
Hey Guys
Why give him a rough time
Why give him a rough time
Hey Guys
Hey Guys
Give me a try:
Choke, choke, choke, choke.
Choke, choke, choke, choke.
Give him a break now!
Give him a break.
He ain't no flake
How much can one man take?
He has a beautiful family!

The Oasis
Vanessa Brown, Steve Hubert, Allison Tweedie, Mark DeLong 
Curated by Justine Gabias
July 17th — September, 2015
Opening July 17th, 7:00 — 10:00PM

FRIDAY June 26th 2015:

WAVES & FLICKERS is a one evening live event within the Planetarium presenting collaborations between local contemporary artists and musicians.
This is a licensed event. No minors. Doors @8pm - show starts @9pm
Featuring live sets by Hello Blue Roses, Holy Hum and The Red Hot Icicles Burning on Fire and projections by Jen Weih, Khan Lee and Steven Hubert.
Presented by Erin Blank and Elizabeth Milton sponsored by CITR
Tickets $20 Red Cat Records , ZuluRecords Store &
Eventbrite https://www.eventbrite.ca/e/waves-flickers-tickets-17011918105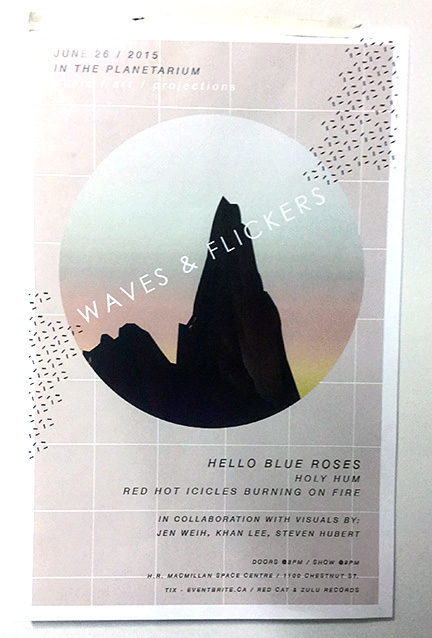 There was a BBQ & Music Festival on May 30th at our studio. Thanks to everyone for making this
a strange and enjoyable event!!! If you were there and took pics or videos of the performances
Please let me know!!!!!
So far there is only this short instagram clip of The Bloody Legends


EVENT POSTER: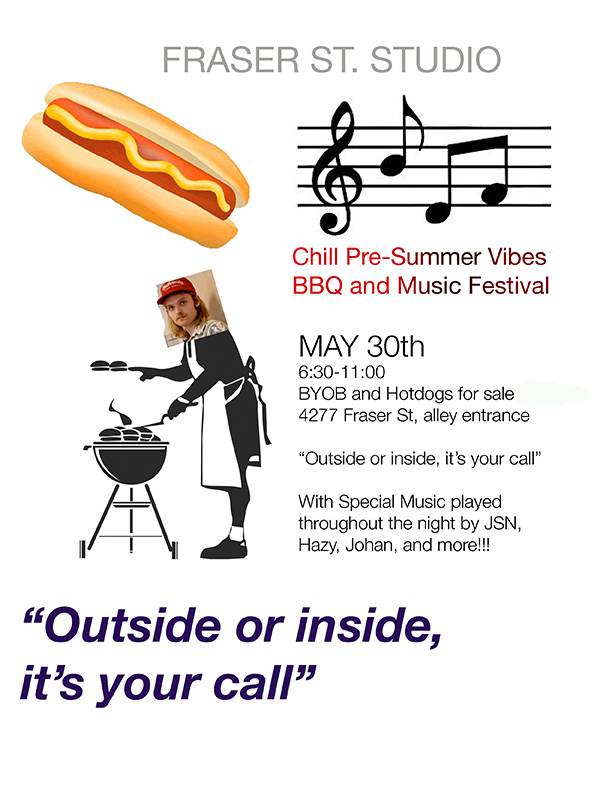 The Rich Interior Life at Field Contemporary just closed May 30th:
See Images At: www.field-contemporary.com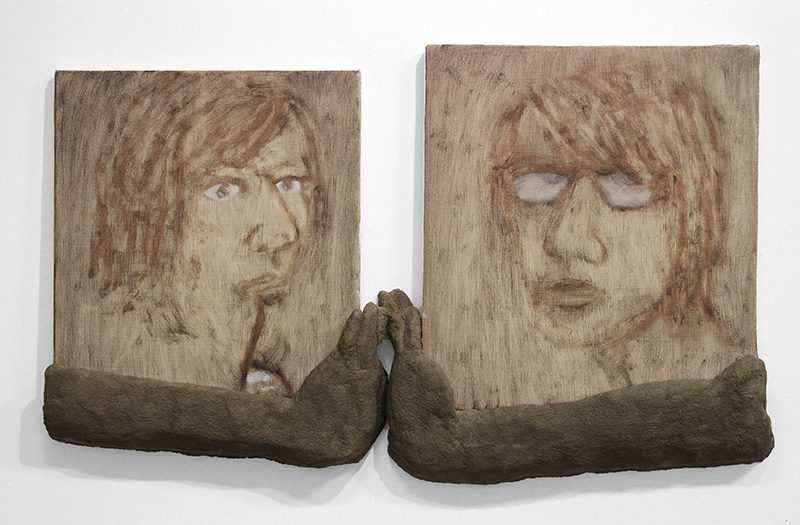 Glasses or No Glasses, 2015
Concrete, oil on canvases, slightly bigger than "life-size"
Thumbnails of paintings (can click to enlarge)
PAMPHLET FROM THE SHOW: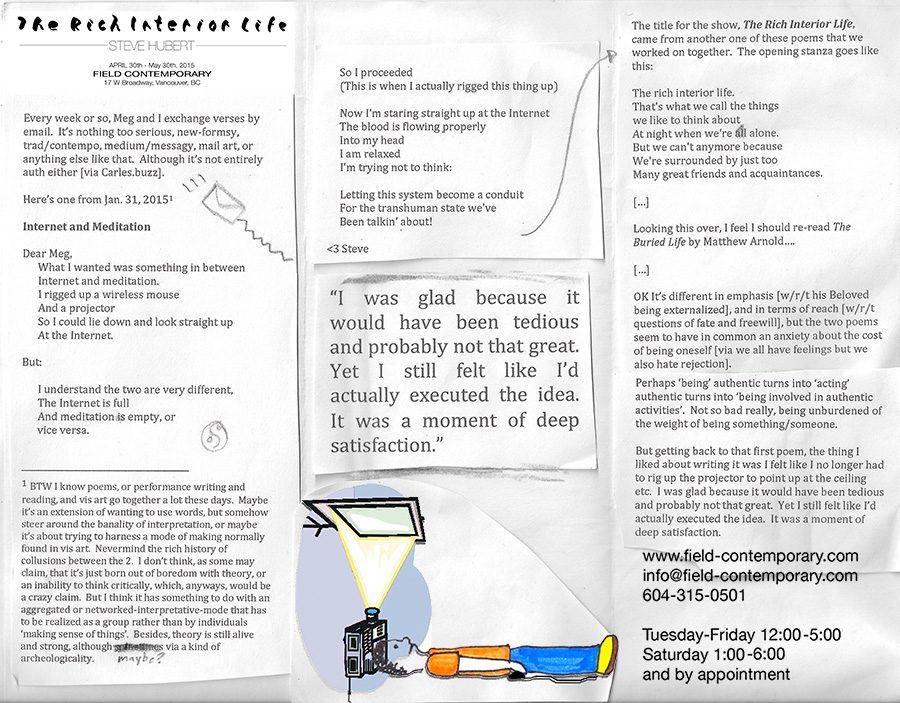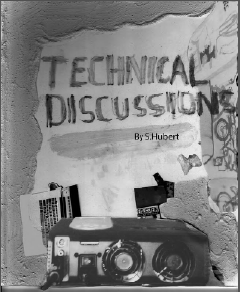 Click to read this essay: Technical Discussions--for an upcoming issue of SETUP*

*This essay is a rumination on a clip from Dallas season 7 episode 15, seen below:

Sunset Terrace / Steve Hubert - Looking at Nothing, Real-time / Oct. 23-Dec. xx

New paintings by Steve Hubert,
magazine launch, split EP, and open mic
Organized by Katrina Niebergal
Essay by Julian Hou
SUNSET TERRACE
http://2028clark.tumblr.com/

Opening October 23rd at 8pm
Background Open Mic will begin at 9:30pm in the back, not too loud
The first issue of same-titled magazine (LaN-RT) will be available at the
opening, as well as a split EP featuring OU812:5150 & Yackatundra
***Background Open Mic will include ANYONE PLUS Julian Hou & Dennis,
Casey Wei, Steve Hubert & Johnny Burgess & Nik Gauer, and others.
Sunset Terrace is a shared studio and project space in East Vancouver.
The gallery is open Wednesday, Thursday, Friday from 12-3, and any other time by appointment.
info@sunset-terrace.com.
ALSO:
LOOKING AT NOTHING, REAL-TIME Issue #1
with contribtions from Tommy D,
Roland Eickmeier, Nik Gauer, Megan Hepburn, Julian Hou, Steve Hubert,
Meghann Hubert, Scott Lewis, Ryan Peters. & Casey Wei

Click to read the Magazine from the Sunset Terrace Show: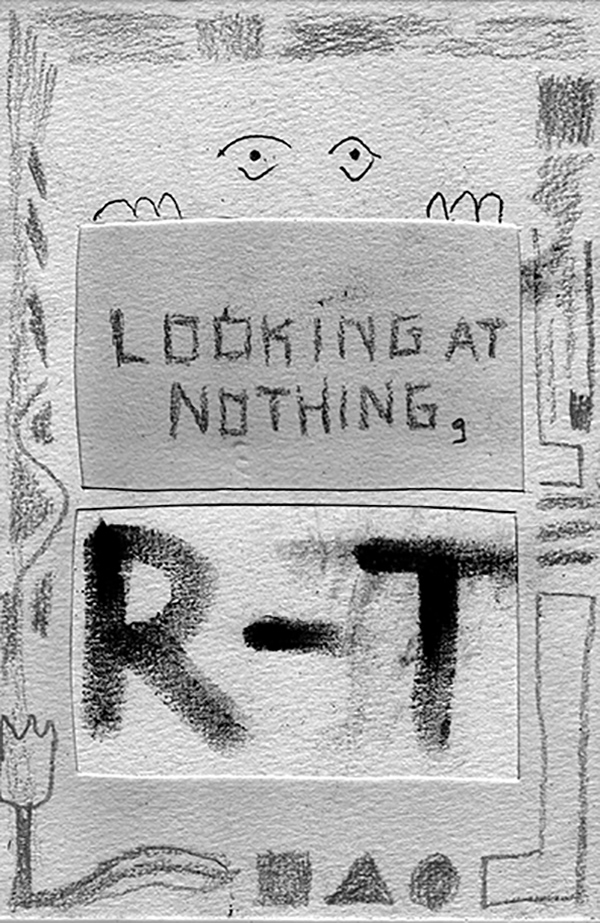 New split EP tape from OU812:5150 & Ryan Peters!

(download or stream: contact to get a tape copy)

221A | The Corruption of Time's Dust | SEP 12-Oct 25
------------------------------------------------------------------------
The Corruption of Time'€™s Dust is an exhibition of work by Nadia Belerique,
Richard Fedoruk, Steven Hubert, Sylvain Sailly and Tegan Moore that
reflects on manual processes of graphic reproduction, collage and the
photographic form at it€™s height in 1980s advertising prior to their shift
towards digitization.
Read & See more: http://221a.ca/the-corruption-of-times-dust/
221A
221 Georgia St. E.,#100, Vancouver, BC V6A 1Z6
(604) 568-0812
Photos Dennis Ha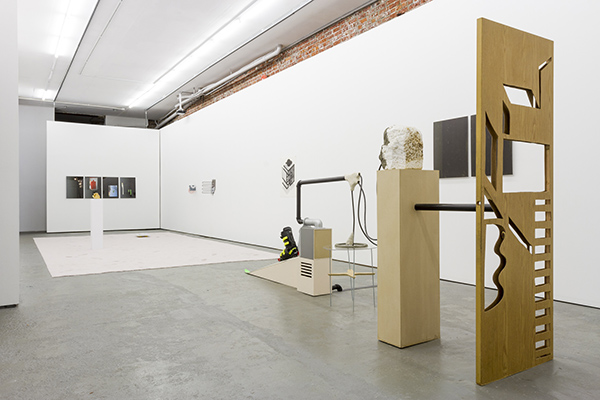 Installation view (On Wind in foreground)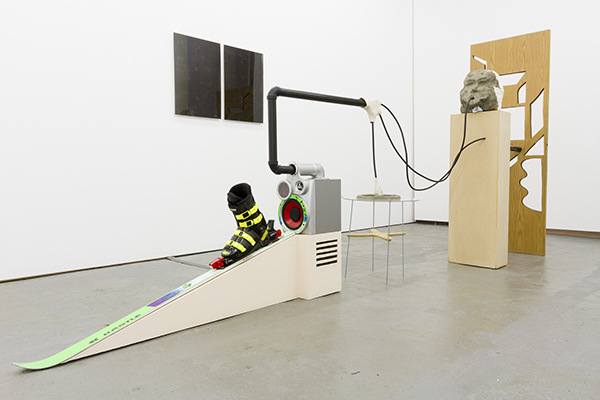 On Wind, 2014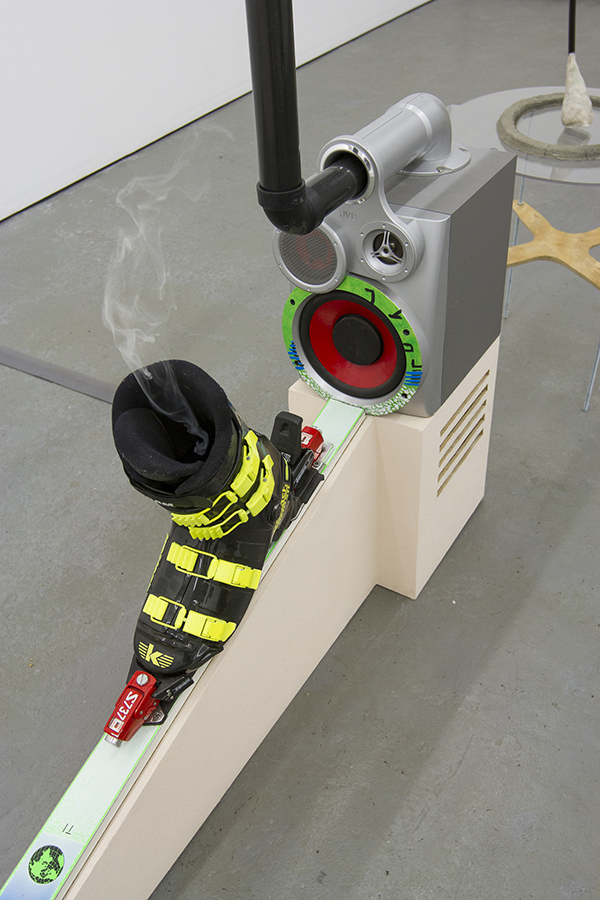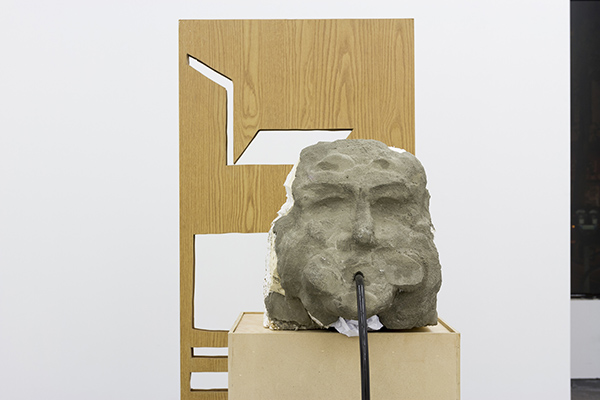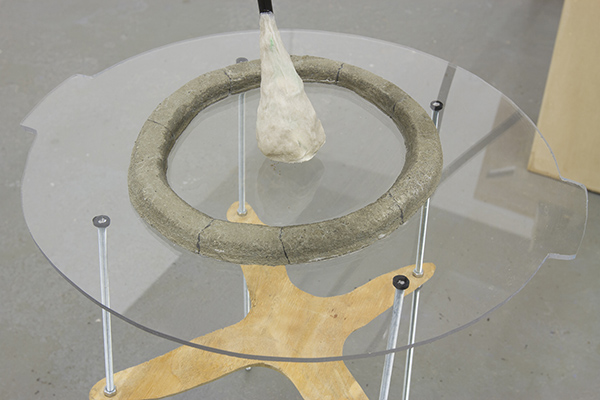 Spring Saloon at MODEL May 25
group show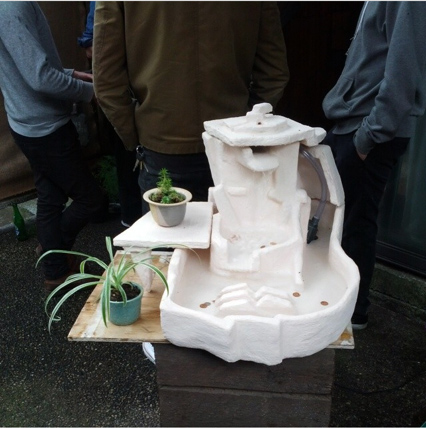 Water Feature, on a rainy day (photo @LES_RAMSAY)
stucco, water, wood, styrofoam, pump mechanism, plants
2014

7 WONDERS

(oil paint, plexi, paper, canvas, acrylic paint, to be installed in a single column from floor to ceiling)
(as seen in group show in Feb at INDEX)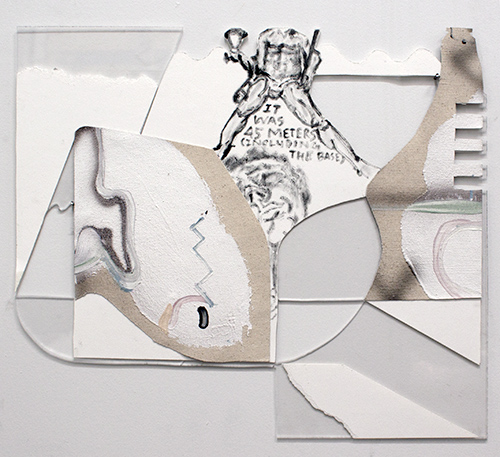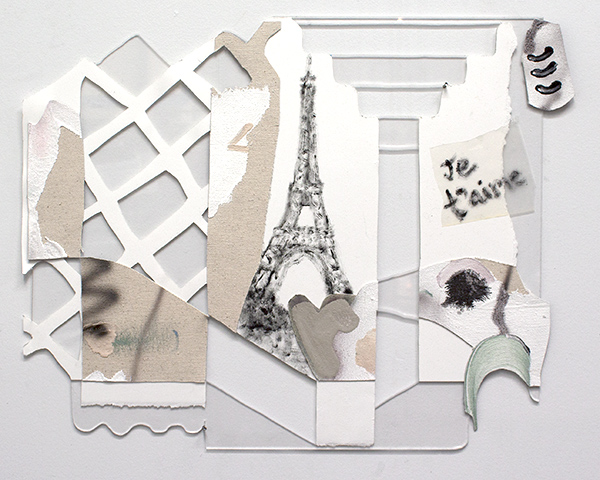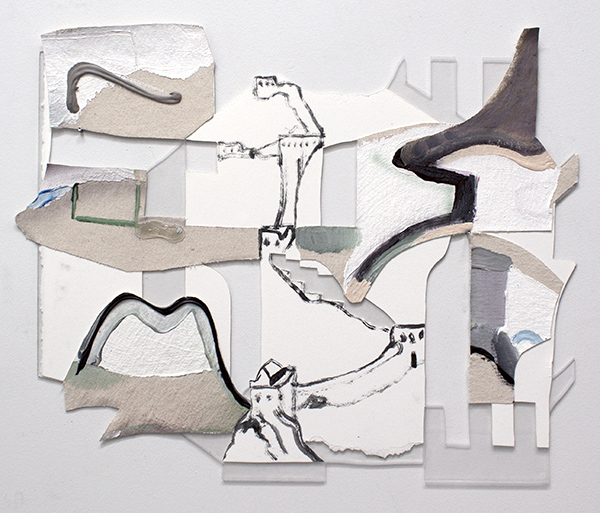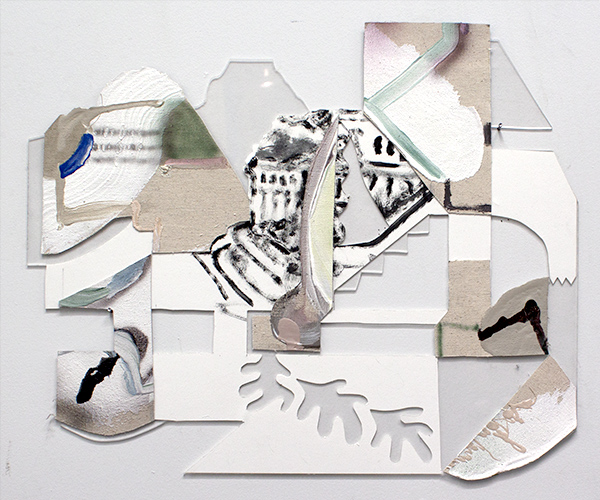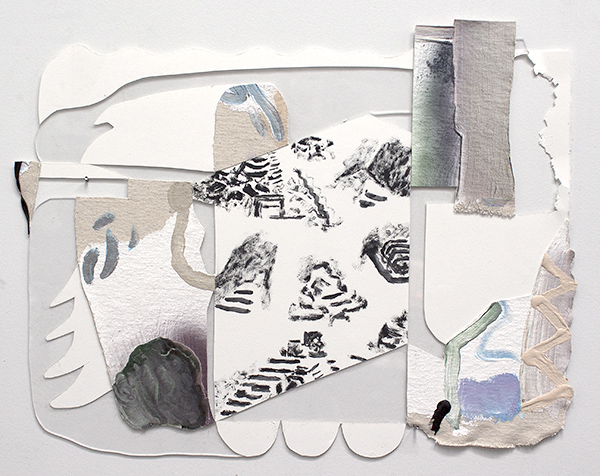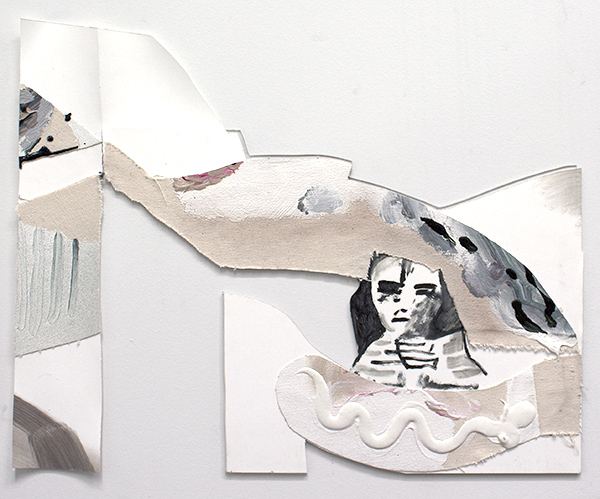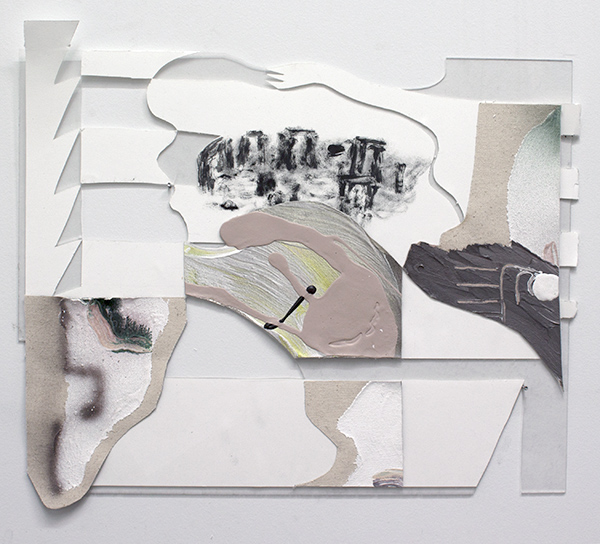 An ongoing video work...
Kind of related:

Vancouver Live Biennale
Vivo September 2013
The Scorpion's Plan
A performance with live acting, music, proprietary sound systems (everyone gets a mic!), and Powerpoint, with special guests Nikolai Gauer and Casey Wei
Review in Decoy Magazine by Jacqueline Ross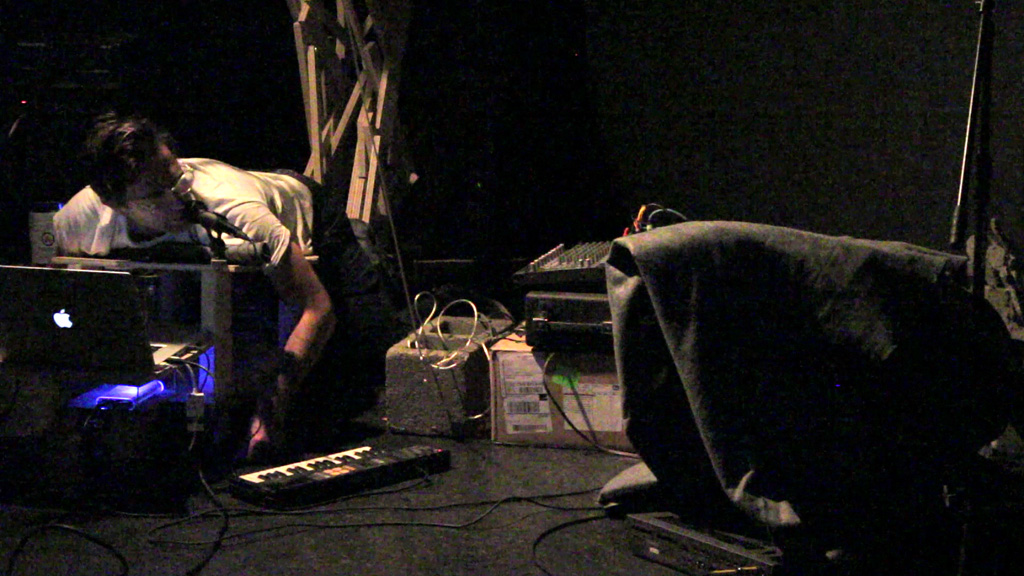 Still shot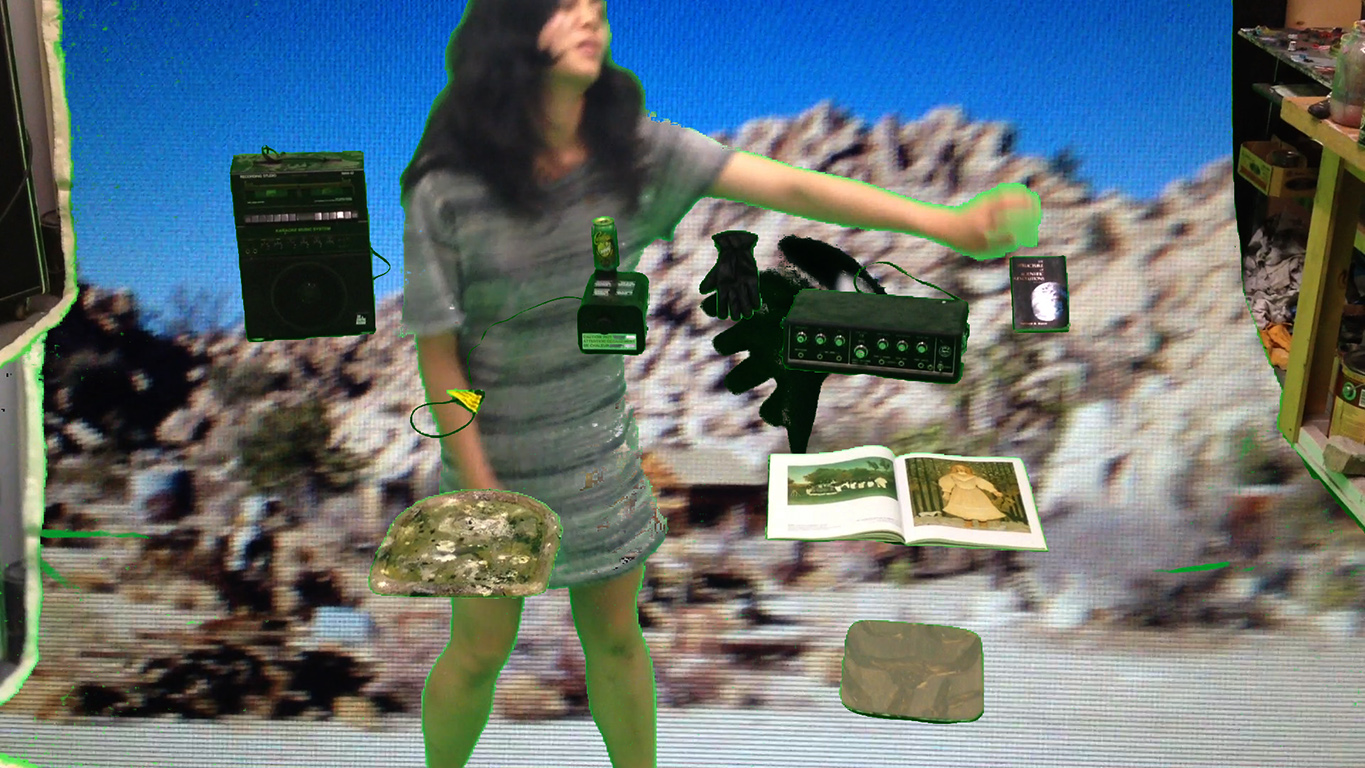 From the Powerpoint

Working hard!!!

This video contains excerpts of the performance--I think you had to be there:-)